The Pottens of South-East England

PAGE INDEX
The Pottens of Patching (A load of Cobblers!)
---

13TH - 16TH CENTURIES
Whilst the name Potten in the English counties north of London may have been trade or locative related, the Pottens of Sussex and Kent appear to have originated in France.
The majority of early references in documents spell the name Potyn which could well have been derived from the Norman-French name Pottin - see Origins/Spellings. The name seems to have been corrupted in the 16th Century. There is evidence of this in Rye, Sussex where Potyns had resided in numbers for some 200 years. Many Potyns recorded as such at birth early in the 16th Century were recorded as Pottens at the birth of their children or at their deaths. By the end of that century the spelling Potyn had died out.
In Kent, Potyn's were prominent from the late 13th Century and Benedictus, Simon, William, Solomon and John Potyn all represented Rochester in Parliament between 1295 and 1346. Sir Nicholas Potyn of Ospringe was four times elected Member of Parliament from the year 1391. It is clear that many of the Potyn's in the west of Kent were landowners. A considerable number of Wills of the 15th and 16th Centuries not only record the extent of their lands and properties, but also show them as benefactors of the local communities.
Sums of money were often left to the poor and there are other examples of their charity. For example, in 1492 William Potten of Ebony left 26 Pounds for new bells for the church at Wittersham.
In Sussex, one of the earliest references was to Robert Potyn in 1275 who is recorded in the Chartuary of the Priory of St Pancras in Lewes as having been a witness to a charter. There are also references in the Sussex Custumals to two freemen Richard and Ralph Poterne being granted leases of land in Aystone and Northlynton in the year 1285.
It is in the Records of Rye where we start to gain significant information on the Potyns which indicate that John and Stephen Potyn owned land in the area in 1362. The Lathe Court Rolls, however, do not show their descendants in a particularly good light. Between 1443 and 1447 Robert, John , Thomas and William Potyn had been 'presented' for trespass, various payment defaults, non-payment of damages, assault, and failure to scour ditches. By the turn of the century they appear to have got their act together because, by 1506, a John Potyn had been appointed churchwarden in Rye.
The Potyns/Pottens prospered in Rye in the 16th Century, many becoming fishermen or ships' captains. It is interesting to note from the Sussex Archaeological Collection the contribution made by Pottens during the English-Spanish conflicts. One such reference, for example, indicates that James Potten was allowed five pounds in 1596 for having been maimed during a raid on Cadiz. The records also show that, in 1578, the widow of John Potten was reported for having a wooden chimney - these were cheap French imports from across the English Channel (La Manche) which obviously presented great danger to adjoining housing.
Although Rye is a significant area for the development of Pottens, it is by no means the only area. Potyns/Pottens were already established in Kent and in other parts of East Sussex. In the late 14th Century and the early part of the 15th Century there are records of Potyns in Wadhurst (William Potyn - clerk), in South Malling, Lewes (William Potyn - church precentor), and in Mayfield (Nicholas and John Potyn - farming). 15th Century Wills indicate that Potyns were resident in the Kent villages of Ebony, Lydd, Warehorne and Wittersham.

EXODUS FROM RYE
By the early 17th Century the Pottens had completely disappeared from Rye. There seems to be two main factors for this. Firstly, Plague. Today in Rye - one of the most attractive small towns in East Sussex with its narrow streets and many old buildings still standing - one can imagine the crowded and insanitary conditions that must have existed. Plague in the 1590's in Rye decimated the population, many fleeing into the countryside. The second reason may have been the silting of Rye harbour. The fishing boats of Rye needed a draught of six feet but , due to silting, fishing was almost abandoned by 1618. The surviving Pottens or those with their fishing livelihoods threatened needed to escape from Rye.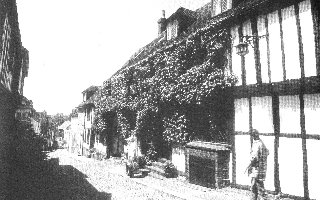 Whilst there does not appear to be any concrete evidence where they went, we may obtain some clues from plotting references to Pottens in the IGI, Wills, etc. These time related plots seem to radiate out from Rye but clearly much research needs to be performed before any final conclusion can be reached. Additionally, migration seems to have been going on for at least 150 years before the turn of the 17th Century. Pottyns/Pottens were, for example, well established in the nearby Kent villages of Rolvenden and Hawkhurst by the middle of the 16th Century.
While one Potten family appears to have moved west to the Sussex village of Friston, the majority seem to have migrated east and north into Kent villages, the county boundary being only a few miles away from Rye.

THE SUSSEX POTTENS
Research into the Pottens of SE England is in its relatively early stages and it is probably impossible for one person to pursue the various lines. The website author, with the help of many others, has worked backwards from the Pottens residing today in Sussex and has concentrated on the family that has grown and spread throughout the county of Sussex in the last 250 years and a further 150 years before that in the villages of East Kent.
While ultimately, research may trace the Sussex Pottens back to the Sussex town of Rye or to Rochester, North Kent, present research can only trace them to Hawkhurst, some 15 miles north of Rye in the mid 16th Century. Here, Robert Pottyn (b. circa 1545) raised a family one of his sons being Nathanial (b.1592). His son Nicholas (b.1617) had a son Nathanial (b.1655) to whom a son, also Nathanial (b.1693) was born by his wife, Katherine, in the year 1693. Son Nathanial married Sarah Howe in 1724, the marriage resulting in six sons and daughters, one of whom was Neri Potten (1729-1789). The unusual male name of Neri was common in this side of the Potten family for the next 100 years or more - see C Nerry Potten.
It is concluded that the name Neri is a corruption of Henery, the name of Sarah's father. Neri appears to have moved some 8 miles from Hawkhurst, Kent, to Burwash, Sussex by the mid-18th Century, established himself as a tenant farmer, and there married Margaret Carly from nearby Salehurst. His Will of 1789 and that of his wife in 1804 shows Neri to have established some wealth for himself and also identifies members of his family. Margaret left virtually everything to her youngest son, Thomas, and that may have caused a rift in the family for, within the next 10 years or so, the family dispersed to the neighbouring towns of Heathfield and Mayfield, and to Brighton many miles away on the South Coast.
The Pottens of Burwash and Heathfield multiplied substantially in the first part of the 19th Century, and whilst a number continued to be tenant farmers, the majority of the males became farm labourers in the area. By the late 19th Century they had diminished in number and many had been drawn towards London, probably in the hope of higher earnings and a better standard of living.

THE POTTENS OF PATCHING - (A load of Cobblers!)
One of the Pottens who eschewed the farming life was Henry Potten (1799-1877), son of John (1762 - 1848), and grandson of Neri (1729-1789). His father John was one of the family who had moved from Burwash to neighbouring Mayfield and it was there that young Henry was apprenticed to Zakariah King as a shoemaker in 1812.
Whilst father John moved to the Heathfield - Burwash parish boundary and set up the Stag Beer Shop, young Henry and some of his siblings had moved to Brighton by 1820. Marrying Mary Ann Freeman from Dallington, near Burwash, he temporarily moved a further 20 miles west to the historic town of Arundel before in 1822 settling in Patching, a village a few miles west-north-west of Worthing.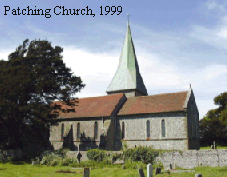 Henry traded as a shoemaker in and around the small village for the next 25 years or so. His sons, Edwin and Albert also took up the trade as did some one or two of his grandsons, either in Patching or the neighbouring village of Angmering.
Shoemaking could not, of course, support the rising number of Pottens in Patching and several became woodsmen, making hurdle fencing (principally for sheep penning) or supplying wood to bakeries and other trades in the rapidly expanding town of Worthing. Others moved further afield. Henry's son Amos became a smith in Portsea in Hampshire where his son Christopher Nerry Potten (1849-1934), artist, was born. And others moved to Worthing and other nearby villages to take up trades such as nurserymen, wheelwrights and lathewinders.
Henry, the poor shoemaker, by 1850 had suddenly become fairly prosperous building 8 cottages in Tarring, Worthing for his own family and purchasing a further property for his own use in the parish of Heene in Worthing. Where did the money come from? Was it inherited on the death of his father, John, from the sale of the Stag Beer Shop, Heathfield. Pottens resided in Patching for 150 years.
The most notable of the Patching Pottens was probably the woodsman and carrier, Richard (Dick or Dicky) Adolphus Potten (1858-1940), a well documented local character with a strong Sussex accent, a wicked sense of humour, a sharp card player, and a propensity for muddling his words.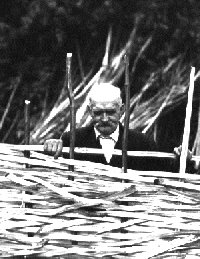 In The Story of Goring and Highdown, the author describes an imaginary walk around Goring in 1910 in which he identifies the notable people of the village. A passage of the book reads:
"It's a pity we haven't seen Dick Potten; he drives the cart for the nursery and he's a bit difficult to understand sometimes. The other day he was telling me about a large load he had arranged to send off to market. I think some of the load went to Worthing on another cart, but what he said was, "Yep, tha's right, 'arf of it went by rail, the rest by train".
A Patching resident recently recalled how Dick had one day called into see his father in a terrible state because his horse, Nobby, had just died. He had had the horse for many years, and one day without warning it had collapsed and died. "What am I going to do", he said, "he's never done this before".
The same resident, whose father worked for Dick, said that Dick was an astute businessman albeit on the 'careful' side. He also recalled that Dick would sell rabbits which he often bought from poachers (allegedly) and these would be hung from the sides of his cart. He would advertise these by shouting "Nice rabbits, nice rabbits, 18 pence a piece". On hearing this bystanders occasionally responded "What about the others? How much are they?" to which Dick would reply "Same price, same price".
By the late 19th Century and early 20th Century, Dick Potten had become probably the largest employer in the village having some 22 people working for him (including his brother Albert 'Bert') either in the yard behind his house where wood cutting machinery had been installed or at his other yard in France Lane near to where he subsequently owned several properties. He continued making hurdle fencing well past his 80th birthday.
Dick died in 1940 after being knocked down by a car at Patching which was travelling on the wrong side of the road. The coroner attributed the accident to wartime car lighting restrictions and the difficulties that the driver must have encountered having just left the bright conditions in the nearby Horse and Groom Public House!
Bert took over the Potten hurdle making business until 1952. It continued in Patching through his son Clifford Potten until his death in 1964.
Dick, Bert and Clifford were all keen and able cricketers in their time and played for the Clapham and Patching Cricket Club for many years.
Only one female descendant of the Potten family now lives in Patching although the churchyard in the village provides some evidence of their residence. Sadly, many of the graves are unmarked and the legacy of the Pottens hurdle making expertise is slowly rotting away, replaced by machine made fencing.
Page updated 18 May 2000
---
---